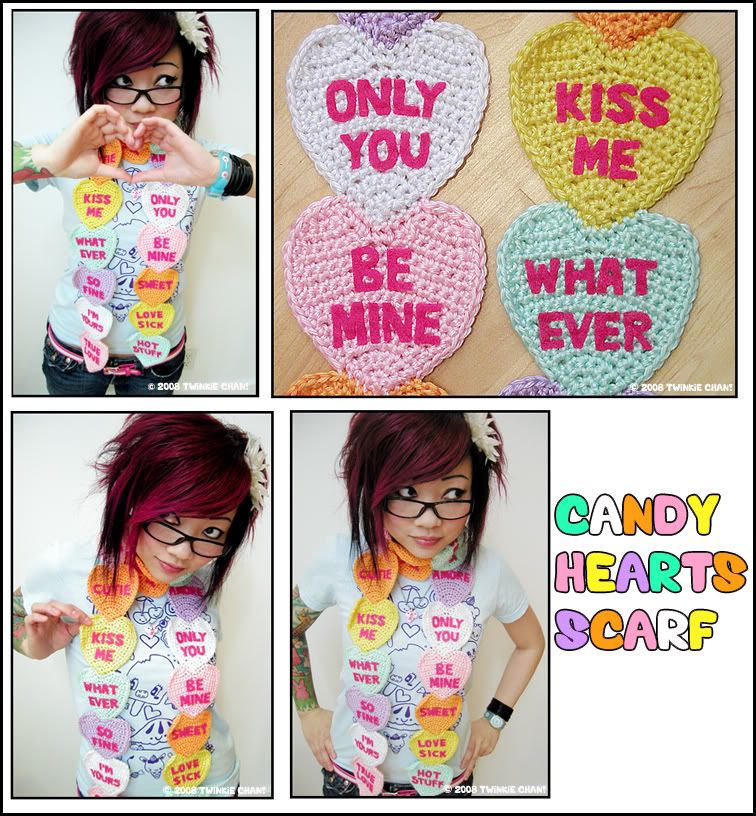 Twinkie Chan
showed the handcrafting scene that crochet scarves can be a most sought after item on Ebay and sell for prices that most of us only can dream of. (The scarf sold for $321 on Ebay)
Wow, this is all I can say. She also makes smaller crochet brooches for those with a tighter wallet.
Food themes are typical for her designs and she translates her ideas into wearables. I may be wrong, but I believe she was one of the first crocheters to create food inspired items and she has been copied a lot over the years (just my own subjective observation).
Crochet has come a long way ... doilies, afghans and homely designs were just the beginning.
I am convinced that a unique style in crochet, a feeling for color and "what's in" are components of crochet success stories, even though some crocheters do very well with conventional designs and products, too.
And there are always the crocheters/knitters who appeal to small niches. One thing that most of us especially crocheters have in common though are selling prices on the lower $ level. This little series is meant as inspiration and uplifting examples that our craft can do well in the retail world.
And, as my previously featured crochet designers have demonstrated, a pretty model and great pictures sure help selling as well.