I had talked a lot about my business and new hats for sale in my previous posts, shared ways to save on time and prepare for the holiday rush...today I would like to share some insight thoughts about what's behind my drivenness to crochet.
I have always used crochet as a medium to make my own clothes and styles, then I made ponchos and complete outfits for others for sale...and it was last year when I started to make hats (almost) exclusively. Tams, dread-lock beanies, hippie head attire mainly, even though I sometimes mix in a bit of BoHo or vintage chic, just for the heck of it, and because I love eclectic style mixes. Well, all my hats are constructed in rounds. And here is where I believe my addiction to crochet hats seems to have its origin...crocheting in circles until my head seems to spin. And when I thought about circles, mandalas came to my mind soon.
(simple mandala crown tam)
The pleasure of crocheting in circles has absolutely captivated me. And there was a time when I loved to color black/white copies of mandalas with any kind of pencils or crayons. Round shapes or circles have a magical soothing and relaxing effect.
I did some research on the internet and found this very informative site
www.mandalaproject.org
which answers questions about the origin of mandalas, their meaning in Sanskrit, mandalas in nature and the healing power and mystic of circles in a very straightforward language.
I asked my companion to design mandala graphics in "my colors purple and green" for me, I hope to get them soon. They will inspire a lot of my new designs for 2008.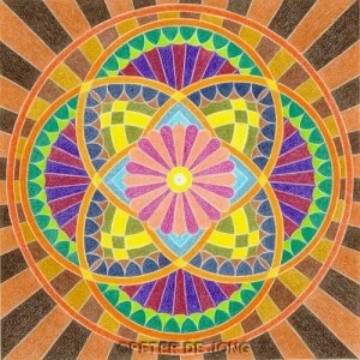 This beautiful mandala is not our work, but can be viewed among many more mandala creations in this
mandala gallery
.
My wares are getting few and rare in my online stores these days because I will not list my favorite staple items and completely new designs until after Christmas.
New designs need inspiration and life experiences, found in nature, in interaction with people, not while sitting on my couch and crocheting day in and day out.
With most orders already filled, I am almost there...